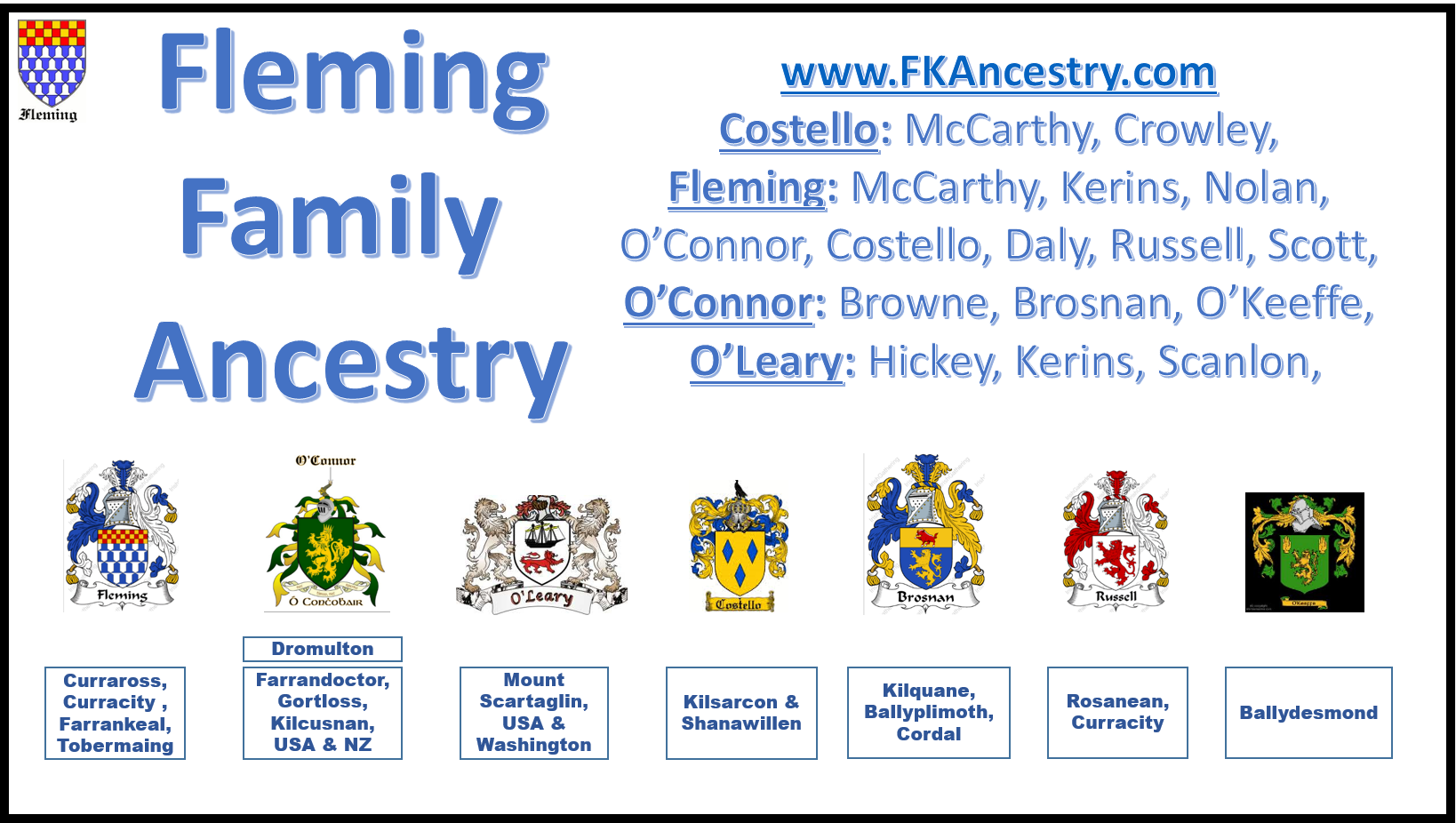 FKAncestry.com
FLEMING ANCESTRY - KILLEENTIERNA, CURRAROSS, CURRACITY, FARRANKEAL & TOBERMAING - Co KERRY
Updated 16/06/2021
Navigate The Menu Above OR Click on Images & Buttons Below To Make a Selection. This is a Not-For-Profit, Family Ancestral Research Website Project.
We are constantly revising & updating pages with new research material - So do check back on original material in case new information has become available.
If anybody has any reasonable concerns regarding any particular content on this website, please advise accordingly. Contact us by completing the CONTACT FORM below and action will immediately be taken to appropriately amend or delete that content. Thank you.
Curraross, Curracity, Farrankeal & Tobermaing
Dromultan & Mount Scartaglin
Mount Scartaglin, Gortloss & USA  
Farran, Kilcusnan, Cordal  & NZ
Farran, Gortloss & San Francisco
TheDepartmentStoreMuseum BruceKopytek
BOOK: O'ConnorMoffattCo 1866-1929
FKAncestry.com Website Contact Form:
If you have Family Ancestral information regarding content already on this site or
Information that you consider is new and relevant to this site please do make contact and let us know.
Make contact by completing the Form below and press SEND .
We would love to hear from you.
Thank you.
Details on Graveyards, Headstones. Obituaries & Remembrances are located in the Documentation Section associated with each respective Family Name.
Click on the Documentation Section and select the respective Family Name.