Updated 11/04/2020
Some Books are presented in full.
Some of the Books are over 150 and 200 pages in content.
This will take some time for your PC to download the material
. But it is worth the wait ......
The Book: Through the Years To A Greater O'Connor Moffatt & Co 1866-1929
This is the incredible story of Bryan O'Connor's journey to success. The booklet was  prepared by Richard Costello in 1929. As a critique, it fails to capture the true brilliance of the man, Bryan O'Connor, born 1838 Farrandoctor, Currans, Kerry, Ireland.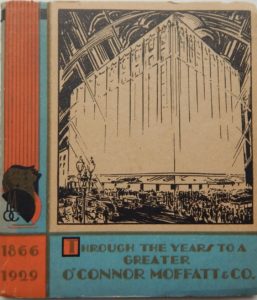 Sincere & Gracious thanks to Linda P. Gross, Reference Librarian, Hagley Museum and Library, Wilmington, DE 19807 for her kind assistance in locating and sharing this lovely Book 'Through the Years To A Greater O'Connor Moffatt & Co 1866-1929' written in 1929 by Richard W Costello on the opening that same year of the newly refurbished O'Connor Moffatt & Co Store at Stockton & O'Farrell Streets San Francisco. Richard was the President of O'Connor Moffatt & Co at that time in 1929. He was a relative to Mary Jane Costello, Rathkeale Limerick/San Francisco, the wife of my Great Grand Uncle, Bryan O'Connor Farrandoctor, Currans & San Francisco who started this incredible Dry Goods Store in 1862/66. Until his sudden death in 1887, Bryan developed his Dry Goods business into an incredibly enormous, wealthy and successful business in San Francisco. It became the biggest dry Goods Store in California, later acquired by Macys in 1945. Read more on The O'Connor Family Ancestry: Click Here
THANK YOU LINDA.
There is a Blockbuster Film in this Story.
This Story has EVERYTHING! The Hero - A brilliant visionary. A quest. A true and everlasting love story. Travel. Commitment and dedication. Innovation and creativity. Fashion. Design. Hard work and overcoming insurmountable obstacles to create of a vast business empire. An incredible story of rags to riches with enormous success & wealth generated. Sorrow, untimely death & tragedy after tragedy. A last minute and bitterly contested will resulting in a long & protracted public and nasty legal battle. The unexpected and public ending to extremely private lives and Much, Much, More… Magnificent!
The Book: DYING For THE CAUSE: by Tim Horgan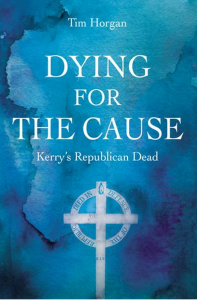 This book tells the story of the lives and deaths of 162 Kerrymen who died for the ideal of an independent Irish republic of 32 counties.
On Page 218, Tim captures the life story of Jeremiah O'Leary, born in the fall of 1894 at Mount, Scartaglin. He was the only son and eldest child of James 'Jim' O'Leary, Scartaglin and Hanna Scanlon, Knockafreaghaun, Brosna. Jim and Hanna were married in February 1894. 'Jerh Leary' was an extremely bright pupil at school. From a young age he was an avid reader with a keen interest in scientific and political books. Having read a book, he would always sign his name inside the book's cover and then date stamp it. He was shot at Castleisland in 1923. Many others were killed in action or were executed or died while in captivity as a result of brutality or neglect. In telling their stories Tim Horgan has provided an intriguing social history of Kerry and a snapshot of life in Ireland at that time. Through his research, Tim has also uncovered much new information for many families associated with those events. This aspect also gives the book a heightened relevance and importance to present day family relatives of those who sacrificed everything in the pursuit of their beliefs, paid the ultimate price and died for their cause.
This book will certainly be a collectors item and will make for an emotional read and a  wonderful gift for anyone with Kerry connections.
Click HERE  or on the Book Image to read more.......
The Book: LEGENDS OF SCARTAGLIN: By Jim O'Connor.
Click on the Image to read Jim's Book.
This is truly a lovely book about Scartaglin written by Jim O'Connor. Jim was born and reared at the centre of  Scartaglin village. Jim's ancestor Patrick O'Connor was recorded as at the House at Mount Scartaglin with the O'Leary Family when the 1901 Census was taken on that Sunday, 31st March 1901. Jeremiah 'Michael' O'Leary signed that Census Form. Our dear Grandmother, 'Kate Leary', his grand-daughter was aged 3 years then. Refer Jeremiah O'Leary Census 1901 HERE for more.
The dedication and time taken to research, validate, compile, edit and present the material for Jim's Book is very evident. Jim's love and appreciation of sport is also evident throughout his lovely book. Jim captures the Legends of Scartaglin very well for sure - but Jim also captures a sense of the history of Scartaglin, passing through time from pre 1800. Sport has been and still is engrained in communities. Jim captures the strengths of the Scart-Community spirit too, the Scart 'Way Of Life' over the course of those 100+ years.
Many of the 'Legendary-Scartaglin' successes were certainly due to the generous and voluntary contributions from the devoted members of the Scartaglin Community.  There are some fabulous pictures in Jim's book. Of old buildings, schools and churches and the newer replacements. But those familiar faces and those great, familiar family names. Jim captures all that so well.
'How better a finish than to continue': so be it with Jim. Jim O'Connor himself - continues to follow the Scartaglin community tradition in generosity that he captures so well in his Book - a tradition of giving voluntarily.  To read more of Jim's Book -  Click HERE:
The Book: 'The Family OF Edmond R. Casey and Mary J. Healy and The Families of Their Siblings'
Click on the Image here to read full Book. Section categories are available below....
In Appreciation...
Sincere thanks to Elaine M Casey & Kathleen Casey Aponick (Both Massachusetts) for researching and compiling this magnificent Book:
The Full BOOK Click HERE 'The Family OF Edmond R. Casey and Mary J. Healy and The Families of Their Siblings'.
Charles Brien & Ellen Fleming ancestral aspect: Click HERE.
Thanks also to The Late Angela Healy Kelly Castleisland, for sourcing this magnificent Book and finally, thanks to Thomas Woulfe, Knockeen for sharing this book and its contents. This Book contains incredible research on families of the Beenatavaun locality. For the Flemings Curracity/Farrankeal/Curraross likewise, this Book adds valuable aspects to their Fleming Ancestry and for that we are very thankful to all those named above.
Ellen Fleming married an only child Charles Brien in 1838 and they lived at Beenatavaun. Charles was the son of Patrick Brien of Castlemaine and Mary Horan of Beenatavaun who also lived at Beenatavaun. The Ancestral detail for the O'Brien/Ellen Fleming descendants is contained in this lovely book.
Eleanor , Eleanora or 'Ellen' Fleming was a sibling to GL-1 John Fleming who married Mary Nolan. It is considered for the moment that they lived at Curraross.  The father to GL-1 John, GL-1 Ellen and the other GL-1 Fleming siblings was a GL-2 David Fleming. GL-2 David Fleming's Family Tree is on the Fleming Family Page. Click Here to see that GL-2 Family Tree. The Family Tree for GL-1 John and Mary 'Nolan' Fleming is also on the Fleming Family Page. Click Here to see that GL-1 Family Tree.  This book contains Ancestral information on the following family names: - Including: Casey, Brien (Beenatavaun), Healy (Curraross), Fleming (Curracity, Farrankeal, Curraross, Tobermaing)
The Book: Fleming Genealogy Kilcummin
Click on the Image
A master-piece of detailed records captured in this book on the Genealogy and Ancestral records relating to the families that lived around and about Kilcummin. It was a combined piece of work between John Lyne and Pat Fleming as one man scripted, while the other 'recalled' from memory. Incredible work.
For the Flemings at Farrankeal. Curracity, Tobermaing and Curraross - there is valuable detail also - possibly linking Flemings from those locations back in time to a Michael Fleming from Blarney Co. Cork who married a MacCarthy girl and into a farm at Killeentierna.
The Story Goes....  ''Michael Fleming of Blarney Co. Cork married a MacCarthy of Killeentierna in 1775. Mr MacCarthy, his (Michael Fleming) wife's father, was in the habit of going to Cork Butter Market, and he (Mr MacCarthy) used to stay in Michael Fleming's father's house. He (Mr MacCarthy) took a fancy to Michael Fleming, the son of his host. And he (Mr MacCarthy) made a 'match' between him (Michael Fleming) and his (Mr MacCarthy) daughter and gave him (Michael Fleming) his (Mr MacCarthy) farm at Killeentierna. Their (Michael Fleming & Ms MacCarthy) issue were - Michael, James John, David, Thomas and Garret.
It is also considered that the 'Blarney' Flemings originated from Kilcummin, having gone there from Kilcummin.
Michael and Ms MacCarthy lived at Killeentierna and they had at least six children, six boys. Michael, James, John, David, Thomas and Garret. Garret is an ancestor to the Parkmore Flemings. Margaret Fleming (Ms Meredith) was a 'Garret Fleming' descendant.  Pat Fleming & Family reside at Parkmore today. David it is thought is the Father of GL-1 John Fleming that married Mary Nolan and they lived at Curraross. Their son David Fleming married Catherine O'Connor Farrandoctor. (Refer Fleming Family section for more)
Michael, James and John lived at Kilcummin... Their Ancestral detail is contained in this book.
David, Thomas and Garret remained at Killeentierna and their descendants are very numerous in that Parish.
Is it David that is our GL-2 and therefore GL-2 David's son GL-1 John who married Mary Nolan and lived at Curraross - those Flemings are the connections to Flemings at Curracity, Farrankeal, Curraross and Tobermaing. It is John's son GL0 David Fleming who married Catherine O'Connor from Farrandoctor. They lived at the Curracity homestead.
(Refer Fleming Family section for more)
The AUBANE Historical Society Co. Cork researched an excellent document on the Butter Road by Jack Lane
The AUBANE Historical Society Co. Cork researched an excellent document on the Butter Road.
This document prepared by Jack Lane: Click HERE or on Image to Read Jack Lane's Document.  Extracts below:
It was one of the first planned and properly built roads in the country, as opposed to roads that simply developed from paths, tracks, etc It was built as a Turnpike Road, which was a new method adopted by the Irish Parliament after 1729. These roads were usually organised and constructed by the local gentry who collected tolls to meet the cost. This road was unusual in that all the construction and all the financing was carried out by an 'ordinary,' but extraordinary, individual named John Murphy from Castleisland. The gentry reckoned they could not do it themselves, that it was too big a project. They acted as Trustees and entrusted Murphy with the work. He raised all the money to build it and was to get it back from the tolls he organised on it. It was a risky business and so it proved for Mr Murphy. But before dealing with his problems it is useful to get an idea of the enormity of what he did. - It is fortunate that, as this was one of the first ventures of its kind, there was very detailed Act of Parliament passed that spelt out the contract with Murphy in great detail, which gives us a good description of what he undertook and achieved....Murphy practically built 56 miles of road, which included the building of all the bridges on it: 9 large ones, of which that in Aubane would be an example, and 15 small ones. He estimated that it would take him 8 years to build—and all without any mechanical help....Murphy built many others straight roads in Kerry and was recognised as a something of a genius in his time. The historian of Cork and Kerry, Charles Smith, speaks of: "...Mr Murphy, a man, who by the meer dint of genius hath extremely well executed several new roads here, and taught others to do the like, and carry them on through very difficult and almost impracticable bogs and mountains."
The proposal for the Bill in the Irish Parliament in February 1747. Murphy could collect them (Tolls) for 61 years from 1st May 1748. Also described are the penalties for trying to fiddle the tolls or taking side roads to avoid payment....The idea of a straight road was very revolutionary and in many ways was not sensible or economical, certainly from a construction point of view….
THE KERRYMAN'S TABLE, This is the most well known landmark on the Road in the townland of Aubane. It is on the Butter Road, near the southern end of the townland. It is exactly midway between Cork City and Killarney, 25 miles either way. It was a traditional resting point for those travelling, and carrying butter from Kerry to the Cork Butter Exchange, a resting place for humans and horses. It was also a meeting point for those who were not able, or who could not afford, to travel to Cork. They could bring their butter for others to trade, and collect payment. They could also buy goods brought from Cork. It was probably something of a trading centre being conveniently placed at a cross-roads called Clochaniar Cross. No doubt it was named after the stone itself—the Stone of the West—it being located facing the western end of the road from the other side of Mushera. The road itself is no longer in use: it used to run down to the Butter Road, from behind the Butter Road Monument (erected in 1998)………
THE CORKMAN'S CHAIR, As a result of the improvement in the Road in the 1990s to service the Millstreet Country Park, we have a monument to Corkmen in the discovery of a Corkman's Chair, which complements perfectly the Kerryman's Table, a short distance away. What could be more appropriate objects to symbolise the very basic purpose of the road—to join Cork and Kerry! Despite all that has happened during the period, the Road has done this job admirably for 250 years and it was very appropriate indeed that its 250th anniversary was celebrated so well in 1998. Incidentally, the development of a Country Park in the area is as amazing as Murphy's construction of a new road, in terms of the scope of the project and the size of the investment……
In fact the Road was really the first Cork-Kerry tourism project and John Murphy could be credited with being the founder of the tourist industry for the South of Ireland.
The Herberts of Currans & Cahernane
Extracts: The history of the Herbert family in Kerry is told in the fortunes of Edward and Arthur, Sons of Thomas Herbert of Kilcow. Arthur the youngest, established a residence Currans House and there evolved the Herbert family of Currans.²
Arthur married Mary Bastable of Castleisland and raised a large family. His eldest son George inherited Currans House in 1747, but died three years later. When George's son Arthur, rector of Tralee, died in 1760 at age 37 (his son Richard Townsend an infant), the early family history at Currans House went with him.³ Arthur, a brother of George, had established a new residence Cahernane House.4 The tragedy of the hereditary line of his brother he addressed in the bequest of his home to his grandnephew, Richard Townsend.5
Thomas of Kilcow was the first of the Herberts to settle in Castleisland c1656. He was agent for his cousin Edward, 3rd Lord Herbert of Cherbury (see Antient and Present State of the County of Kerry, Charles Smith, 1756, pp36-38). Thomas descended from Sir Richard, brother of William Herbert, Earl of Pembroke. Earlier, in the later half of the sixteenth century, Charles Herbert (b1567; also descended from the said Sir Richard) and kinsman, Sir William (d1593; descended from the Earl of Pembroke) had spent time in Kerry as planter and undertaker following Queen Elizabeth's grant of lands (styled 'Mount Eagle Loyal') to the Herbert family.

A number of properties are associated with the family at this period, including the castle of Castle Island (a ruin); Sandville House, Dysert, and Kilcow House, Dysert. Currans House, which was located between Killarney and Castleisland, was built c1700. It had a number of occupants following the Herberts, including Bland and Parker, but fell into ruin and was destroyed by fire in the late twentieth century.
Arthur Edward was buried at Ardcrone - 50 RICs with guns reversed, 40 soldiers 80th regiment, a long line of carriages and outside cars, six tenant farmers, and a military salute of respect. So concludes The Kerry Sentinel.  I noted that Mr R Meredith, of Dicksgrove House, who lived about 500 yards away, on hearing of the murder beat a hasty retreat to Tralee! Don't blame him.
Property/House name:         Currans House
Description:    The Ordnance Survey Name Books record Currans House as in a "decayed condition" in 1840. It was allegedly built c.1700. Francis Peet had resided there until c.1829. At the time of Griffith's Valuation, it was in the possession of Charles Daly, unoccupied and valued at £3. It is labelled Currans House on both the 1st and 25-inch edition Ordnance Survey maps. A house is still extant at the site.
Property/House name: Parkmore House Currow
Description: Rev. C.Moynahan was leasing this property to Arthur Sealy at the time of Griffith's Valuation, when it was valued at £19 5s. Bary quotes O'Donovan who said it was a set of the Meredith family in the 1830s though she also mentions that it was said to have been built by a Fr. Minahan. It was occupied by members of the Meredith family and later by their descendents and is still extant. Richard Meredith was leasing a second property in this townland to Rev. C. Moynahan which was valued at £5 5s.
Property/House name: Dicksgrove House Currow
Description: Richard Meredith was one of the principal lessors in the parishes of Castleisland and Killeentierna, barony of Trughanacmy, at the time of Griffith's Valuation. In the 1830s, the Ordnance Survey Field Name Books record Captain Meredith as the owner of townlands in the parish of Castleisland. The Meredith estate amounted to over 1800 acres in the 1870s. Over 3000 acres of Richard Meredith's estate, including Dicksgrove House, was offered for sale in the Encumbered Estates Court in June 1855. In 1863, Several thousand acres in the barony of Trughanacmy, the property of Robert Fitzgerald Meredith, were offered for sale in the Landed Estates Court. At least some of this was land purchased earlier in the Encumbered Estates Court. John Busteed was the tenant of over 800 acres at the time of the sale.
Richard Meredith was the owner of this property at the time of Griffith's Valuation, when it was valued at £30 15s. In 1786 Wilson notes Dick's Grove as the seat of Mr. Meredith. Both Leet in 1814, and Lewis, in 1837, refer to it as the seat of the Meredith family. In 1906 it was still owned by the Merediths and valued at £31 5s. Bary writes that this land, granted to the Herberts in the seventeenth century, passed to the Merediths through marriage some time later. The house was built sometime in the 1730s and remained in the Meredith family for 200 years, though Lyons notes that it was offered for sale but later withdrawn in 1855. The sale notice includes a lithograph of the house The estate was sold to the tenants in the 1930s. Dicksgrove was completely demolished but some of the stable buildings and gate lodges remain.
Property/House name: Glebe House at Killeentierna (The Old Presbytery)
Description: Glebe house at Killeentierna     Herbert (Cahernane):   Rev. Thomas Herbert owned the Glebe house at Killeentierna at the time of Griffith's Valuation, when it was valued at £18. Bary states that the house was built by Rev. Herbert in 1839 and was later occupied by Arthur Herbert, a land agent, who was assassinated nearby in the 1880s. The house was later used as a Church of Ireland rectory and later still as a presbytery by the local Catholic parish but has since been demolished.
T M Donovan – 1931 – A Popular History of East Kerry.
 T M Donovan - 1931 - A Popular History of East Kerry.
Accounts regarding history of Kerry including at Castleisland .
Page 131 interesting regarding: Bartholomew Brosnan Kelliher
Chief Engineer of the GTPR - The Grand Trunk Pacific Railway USA.
DOB- Dec 26, 1862, Ballyplymoth, Cordal, Castleisland, County Kerry, Ireland
DOD- Nov 7, 1929, London England, age 68
Buried in Crosstown Cemetery, Crosstown, Wexford, Ireland
He has been called the Greatest Railroad Engineer of his time. Read more on B B Kelliher   Click HERE