Fleming Curraross, Cnockaun, CurraBanefield, Curracity & Farrankeal Burial Plot Kilcummin Old Cemetery.
Many of our Fleming Ancestors from Curraross, Cnockaun, Currabanefield (Barnfield), Curracity & Farrankeal and later from Tobermaing - are buried at the Fleming Burial Plot at the old Kilcummin Cemetery.
The exact boundary perimeter to the Burial Plot is not precisely known presently but the general location is known.
Image here of Uncle Con Fleming who was born at Farrankeal and was a MPSI Chemist at Dunlavin, he died on the 14/April/1970, aged 39 and was the last of the our Fleming Family to be buried at the Old Kilcummin Cemetery. Con was born at Farrankeal to parents David & Julia Costello Fleming. His Death Cert has his age and cause of death marked incorrectly. Con died of cancer.
Buried at Old-Cemetery Kilcummin from Ballyhennesy Co Cork:
Garrett Fleming late of Ballyhennesy. B1748 D 18th Jan 1812 Age 64 yrs. Grand Headstone erected by his sons Michael and John.
Buried at Old-Cemetery Kilcummin from Curracity(CC)/Farrankeal(FK)/Curraross(CR)/Tobermaing(T).

John Fleming CR 
His wife Mary Nolan Fleming (Kilcow) CR (Married 1824)
Dave Fleming (CB1827 D1907) T
His wife Catherine O'Connor Fleming (Farran-Doctor) (Married Circa 1957) CC
John Fleming (B1859) Infant CC
Mike Dave Fleming CC
Hanora Scott Fleming CC
Dave Dave Fleming  (D Apr 4th 1949) FK
Julia Costello Fleming (D 12th May 1945) Age 51 yrs. FK
Mary Fleming (D 26th Dec 1947) Age 19 yrs. FK
Mary Fleming (D19xx) Age 6yrs CC
Con Fleming (D 14th Apr 1970) Age 39 yrs. FK
Buried close by:
Erected by their children in memory of their Father, Michael Fleming D June 1848 Age 65 and their Mother Catherine D Oct 1842 Age 45 and their Uncle Tom and his Wife Ellen of Dromulton
A Survey Of The Old Kilcummin Cemetery.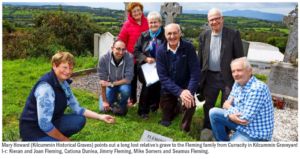 Most of our Fleming Ancestors presently rest in peace in close proximity in unmarked graves in the Fleming Plot at the Old Kilcummin Cemetery. Those Ancestors would have originated from Curraross, Curraknockaun, Currabanfield, Curracity, Farrankeal and Tobermaing. From up-on-high, our Ancestors must be relishing the possibility of having their anonymity removed through the revelations that may emanate from the fantastic research work being carried out presently through The Old Kilcummin Graveyard Project.  It is exciting that the Kilcummin Historical Group decided to survey and publish this historic graveyard from a genealogical heritage perspective. This is an extensive piece of research work lead by Catriona Dunlea and Mary Howard who are both steeped in Ancestral matters and expertise. They have a fantastic team of experts to facilitate including many locals. Catriona and Mary have their own Ancestry business and website: IrishAncestorsDirect.com
We are grateful to both Catriona and Mary and also to the Historical Team involved, for this work that they have taken upon themselves. It is truly a magnificent initiative and perfectly timed to capture information regarding our Fleming Ancestors at the Old Kilcummin Cemetery before this information is lost forever. We look forward to the outputs from their magnificent work which no doubt, will stand the test of time and for which Catriona, Mary and the Team will always be appreciated and fondly remembered.  
Thank You! to Catriona and Mary especially for allowing the Families of our Fleming Ancestors an opportunity to add additional discoveries and new information to our Fleming Ancestral Database.
Reference links on Catriona's and Mary's Website:
http://historicgraves.com/graveyard/old-kilcummin-glebe/ke-olki
http://historicgraves.com/project/historic-graveyards-duhallow-co-cork
http://www.kerrylaburials.ie/en/About.aspx