The importance of Curraross/Curraknockaun in the overall Fleming Ancestral Picture
Updated Last 28/02/2020
Thanks to Mick Fleming Bishopstown, Co Cork and Sr Angela-Kay Fleming Rosscarbery, Co Cork for sharing Fleming Ancestry Material. Thanks also to Catriona Dunlea and Mary Howard for their research regarding the 'Kilcummin Old Cemetery Project', revealing a final resting place for many of our Fleming Ancestors. We will be adding additional material to this page soon. 
Our Fleming Ancestors lived at Curraross before their descendants rented/purchased land at Curracity, Tobermaing and Farrankeal.
The Fleming Footprint timeline seems to be:
Kilcummin → Cork → Killeentierna 1775 → Curraross 1800/1825 → Curracity 1850/60 → (Tobermaing 1895 & Farrankeal 1905/10)
The Fleming Ancestral History involving Curraross/Curraknockaun is most important because Curraross is the origin of our Fleming Ancestry before we moved west and north to farm land at:
Curracity,
Tobermaing and
Farrankeal.
It is sometimes difficult to piece together the Ancestral History of times pre 1825.
A Son of GL-2 David Fleming and Hanora Kerins (GL-2 David married 1800 and may also have lived at Curraross/Knockaun) was GL-1 John Fleming and his wife Mary Nolan who lived at Curraross/Curraknockaun during those times. GL-1 John Fleming married Mary Nolan from Kilcow in 1824. Where they lived was recorded as Curraross but it was really what we know as Knockaun/Curraknocaun or 'Cnoc-aun'. GL-1 John  had circa 600 acres of land rented at one point. He was fortunate to have many sons.
GL-1 John Fleming provided well for his sons. His sons, GL0 David, GL0 John, GL0 Michael and GL0 Patrick were born and reared at Curraross/Curraknockaun. Their father divided the Curraross lands between the three boys Michael, John and Patrick. So they remained at Curraross/Curraknockaun while their father provided for GL0 David at Curracity. He would later move to Tobermaing. There are some lovely old maps depicting GL-1 John's holdings and how he split those lands between his boys. We will examine all of that here soon. It all gives a flavour of how our Fleming Ancestors lived at Curraross/Curraknockaun.
For now - below we attach Fleming Ancestral Charts for the Curraross GL0 Boys - John, Michael and Patrick. The first chart is regarding their father GL-1 John who Md Mary Nolan.
All those Flemings lived in close proximity in a lovely little Hamlet at Curracnocaun or Cnocaun.
Click On The Charts/Images Below To Enlarge:
GL-1 John Fleming & Mary Nolan, Curraross.
GL0 John Fleming & Mary Murphy, Curraross.
GL0 Michael Fleming & Julia Sullivan, Curraross.
Gl0 Patrick Fleming & Ann O'Mahony. Curraross.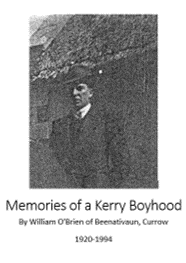 As was the case back in those times, communities and neighbours were invariably very close and interdependent. People relied upon each other. It was no different around Cnocaun (Knockaun), Curraross, Curracity and Beenativaun. The Flemings were particularly close with Families from the locality, especially the Family of Brien (Beenativaun) and the Family of Crean (Farrankeal). Read about the Brien Family who lived at Beenativaun and the Crean Family at Farrankeal.
William Brien (B1910&D1994) Beenativaun wrote a lovely compilation 'Memories of a Kerry Boyhood' about the way of life when he was growing up in that locality around Currow Hill. It depicts the people of that locality and the way of life back then. A fabulous read.
Read William Brien's compilation Click HERE: 'Memories of a Kerry Boyhood'
Extract from William Brien's compilation: P10 ''My grandmother used to relate that during the great influenza epidemic following the Great War, a young woman in Knockbee of the name of O Rourke died of the disease and the neighbours were so scared of catching the dreaded flu that nobody would enter the cabin and coffin the young lady or in any way help the family to bury the deceased. When Mick Pats heard of their plight he hastened to their aid. Securing a coffin, he entered the humble home boldly, placing the body in the coffin he took charge of events and saw to it that the young girl had a decent Christian burial. As ever luck favours the brave and during the time the epidemic lasted, he never fell victim to it.''