Fabulous caption at Mount Scartaglin circa 1930. Cornelius O'Leary (B1874D1947) returns home on a visit to Mount Scartaglin from NY where he is Fourth Deputy Police Commissioner of the city. This picture captures life at Mount at that time. Washed clothes are 'hung' out to dry on the Whitethorn bushes on 'The Haggard' up-behind. 'A Stile' leads to the haggard. Jim Leary's wife, Hanna Scanlon died soon afterwards on 24/11/1934 and rests at Kilbannivane Cemetery alongside her only son Jeremiah O'Leary who was shot on May 29th 1923 at Castleisland.
In the picture: Back Row LTR: Hanna Scanlon (Jim Leary's wife) holding Baby-Alice, her Grand-Daughter, daughter of Kate Jim O'Leary. Alice O'Connor OKeeffe now resides at Lakevale Ballydesmond. Dave Ned O'Connor, husband of Kate Jim O'Leary. Cornelius O'Leary on a visit home from New York. Con's brother James 'Jim' O'Leary by his side. Nell or Ellie O'Leary O'Loughlin who married Michael O'Loughlin Cordal.
Front Row Sitting: Kate Jim O'Leary O'Connor, daughter of Jim Leary with her other daughter Nora Mai O'Connor Fleming who married Patsy Fleming at Farrankeal. Beside Kate Jim is a local helper/assistant lady holding Nell's daughter Peggie O'Loughlin. Kate Jim and Nell were sisters and daughters of Jim & Hanna.
Son of Michael O'Leary, Jeremiah O'Leary who married Ellen Kerins - (They reared 11 living children - 9 boys and 2 girls at Mount Scartaglin) - shared the original farm at Mount between his two sons Humphrey and James-Jim. Five sons had emigrated to the USA (William, Cornelius, Jeremiah, Thade and Maurice)
James-Jim who married Hanna Scanlon (Knockapreachane Brosna) remained on at the old Homestead. Humphrey who married Johanna Fitzgerald, Humphrey's family and his son Jerh-Free who married Mary Flynn, built a lovely new home on the 'Free' half of the Farm. Both houses at Mount have suffered from the ravages of time. Cornie Tangney's house close-by is likewise in a state of disrepair. 
Family Tree: High Level O'Leary Mount Ancestral Chart
This chart below captures the ancestral detail regarding GL-1 William B1746-D1798 A52 Headstone Kilsarcon, GL0 Michael B1776-D1872 A96, GL1 Jeremiah B1817/21 D1904 A83, & GL2 Michael Humphrey James William Con Jeremiah Maurice. The Headstone to GL-1 William O'Leary B1746 D1798 A52 standing at the O'Leary plot in Kilsarcon Cemetery states that the Headstone was erected by his three 'sons'. GL0 Michael was one. Other probable GL0 siblings are not known as yet. It is most likely that GL0 Michael and GL1 Jeremiah and their wives also rest in the O'Leary plot at Kilsarcon cemetery alongside GL-1 William.
This Chart is work in progress and we will be actively updating the chart details as we unravel new connections and make new discoveries regarding our O'Leary Ancestors.
Click on this image below to read more on the Hi-Level O'Leary Family Ancestry Chart. New research discoveries & apt corrections to this chart coming soon!!
Names in red are confirmed. Detail in blue as yet to be corroborated. Those names in blue are possible O'Leary siblings for the corresponding era due to current evidence from the research we have at this point.
Family Tree: Generation Levels GL-1 William, GL0 Michael O'Leary & GL1 Son Jeremiah O'Leary
Click on this image below to read more on the Family Ancestry of Jeremiah O'Leary and his Father, Michael O'Leary - the first recorded O'Leary up 'on the Mount' at Scartaglin.
Michael's Father William (B1746-D1798) is recorded on a Headstone at Kilsarcon Cemetery in the O'Leary Plot. Navigate to the Census and Tithes/Griffiths Records to read more on Michael O'Leary and the O'Leary Mount Scartaglin Records.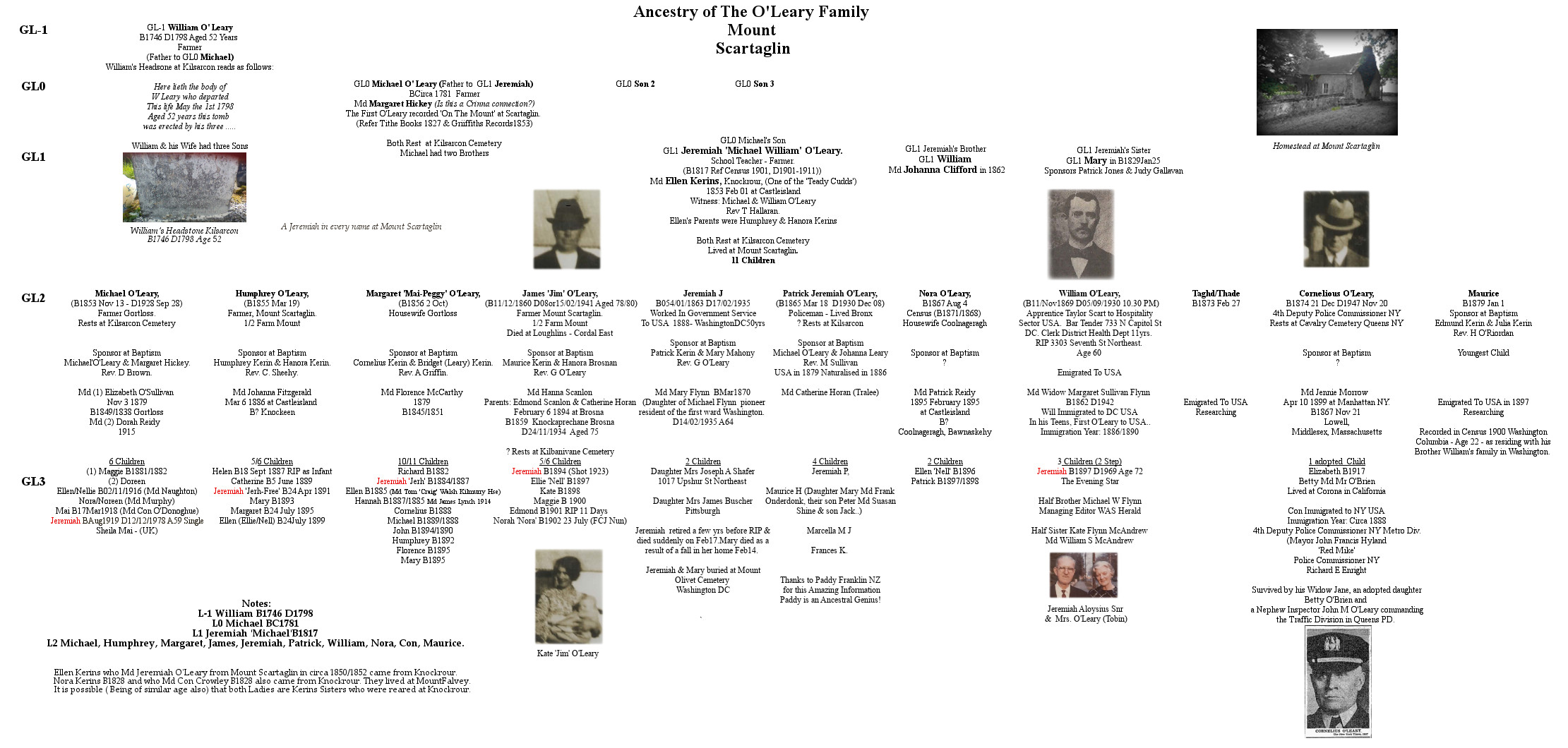 Kilsarcon Cemetery
This Headstone stands on the O'Leary plot at Kilsarcon Cemetery.
The headstone reads:
Here Lieth the body of
Wm Leary who departed
This life may the 1st 1798
Aged 52 years. This Tomb
was Erected by his three ....
The remainder of the headstone is buried beneath the concrete.
This William had three sons. Michael was one. Michael married Margaret Hickey and they reared at least four children (Jeremiah, William, Bridget  and Mary) at Mount Scartaglin. Jeremiah married Ellen Kerins. They lived and reared 11 children at Mount Scartaglin. Bridget married Cornelius Kerin.
Michael O'Leary Sr, who married Margaret Hickey (Scartaglin) is the only O'Leary 'Griffiths Valuation' Land Tenant/Sub-Lessor at Mount (Marked on the GV Maps at that time as Slievebricken) Scartaglin in 1853. Therefore for reference purposes and for bench marking the next generations - we categorize this Michael O'Leary as Generation Level Zero (GL0). GL1 Jeremiah O'Leary (Michael's Son) is recorded as having married Ellen Kerins from Knockrour Circa 1852/1853 and lived at the old house at Mount Scartaglin (This Picture: Dwelling House at Mount Scartaglin, Courtesy of GL4 Jerry's Son, GL5 Timmy Arthur O'Leary, Washington, USA). Jeremiah & Ellen Kerins, their first son GL2 Michael 'Jeremiah' O'Leary was born in 1853. Called after his Grandfather as was the tradition at the time. Michael married and settled at Gurtloss.  Refer G&T O'Leary Page to read more about GL0 Michael O'Leary Sr at Mount, Scartaglin and his land holdings as recorded in the Griffiths Valuations 1853.
GL0 Michael was the Father of GL1 Jeremiah, GL1 William. We have the actual RENT BOOK for the period circa 1850 to 1880 for the Farm at Mount Scartaglin. British Sterling £sd was the Irish Currency in use then. The pound was 240d or pennies. A pound was 20 Shillings, each Shilling was 12d or pennies equivalent. A Guinea was 21 Shillings. There was other Currency Coinage also. We can see that in 1852 the rent starts at £17 plus a 'Cr allowance' of £5 making a total rent payable for the half year in 1852 of £22. In 1876 the rent is £33 with deductible allowances for 'Liming' the land of 3 pounds 10 and for land 'Drainage' another allowance of 1 pound 10. Total allowances are therefore at £5. ( That's £4 and 20 Shillings or £5) Half year rent payable was now £28 by 1876. Inflation was alive back then too! Land at Mount Scartaglin would have been very heavy and wet (boggy) in places and GL0 Michael and his boys would have worked at improving the
productivity of their land. The got an allowance against the rent for this work it seems. This precious little grey book would have been carefully guarded and minded by both Farmers, GL0 Michael Sr and GL1 Jeremiah. The handwriting inside is impeccable.  Michael's name signs off the rent paid until 1870/71 . Then, at that stage, Jeremiah's name begins to appear on the rent book. Perhaps Michael Sr has passed. GL1 Jeremiah may also have had a brother named William. William's daughter may have been linked to what is now Lyons' Bar at Scartaglin village. Perhaps this O'Leary family lived there in the village. Kate Leary's daughter, Nora Mai O'Connor Fleming who was reared at Mount Scartaglin, remembers growing up there around Scartaglin and remembers the value of money. You could buy 12 sweets for a penny back then. In shops, if you asked for a dozen 'buns', you got 13, one for good luck or the Baker's Dozen. Finding a lost penny on the ground was a major find.  
In 1901, Jeremiah, aged 74 is Head of the Family at Mount as recorded in the Census of 1901. His wife, Ellen Kerins O'Leary has passed. Their Farming sons Jim and Humphrey are set up on the Farm at Mount. Jeremiah shared the Farm between both those two sons. (though ownership has not as yet passed to James (Age 40) by 1901 for his half of the Mount Farm). Michael is living at Gurtloss and Patrick also. William and Cornelius have departed Ireland circa 1885-1890 and are becoming well established in America. Cornelius was appointed to the New York City Police Department as a uniformed policeman on June 8th 1901. Margaret and Nora have married with children.  Little as yet is known about GL2 Jeremiah, Maurice or Taghd? The search there goes on. GL1 Jeremiah has passed by the Census of 1911.
Click below for Links to individual Pages for additional ancestral information on the GL2 O'Leary Siblings & Descendants

O'Leary Mount Scartaglin – NEWS
Nora Mai Fleming - Nee O'Connor 1928-2019 - Daughter to Dave Ned O'Connor & Kate 'Jim' O'Leary Mount Scartaglin.
William 'Jeremiah' O'Leary GL2 & his descendants. 'Will' was first GL2 O'Leary sibling from Mount to get to the USA.
Family Tree: GL2 William 'Jeremiah' O'Leary
Family Tree: GL3 Jeremiah 'William' O'Leary
Family Tree: GL4 Jeremiah Aloysius Patrick O'Leary
Click on the Button above to read about Kate Leary & Dave Ned O'Connor
( Kate Jim Leary was the last O'Leary to reside at the Homestead at Mount Scartaglin.)
Jeremiah Aloysius Patrick O'Leary, Washington Newspaperman & Reporter ,  
Wrote to the Kerryman Newspaper in search of his Kerry O'Leary relatives.
Click above to read about this.
O'Leary Gallery: Mount Scartaglin
Details on Graveyards, Headstones. Obituaries & Remembrances are located in the Documentation Section associated with each respective Family Name.